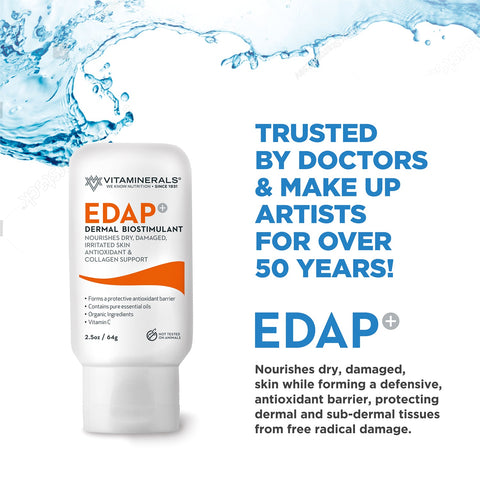 Vitaminerals EDAP Cream 2.5 oz
Skin Barrier & Repair Cream
Strong base formula with Vitamin E, D, A and Panthenol
EDAP is now EDAP+.  We have added vitamin-rich oils such as Coconut, Avocado, Olive, Grapeseed, Soybean and Moringa as well as Vitamin C, and Essential Oils to increase the nourishment of dry, damaged, irritated dermal tissues while forming a defensive antioxidant skin barrier, protecting delicate dermal and sub-dermal tissues from free radical damage.
Enhanced with vitamin-rich oils
Organic Ingredients - Vitamin C
Essential Vitamins - Natural Plant Sterols
Preferred by Make Up Artists for Decades
Paraben Free - Fragrance Free - Not Tested On Animals

Apply liberally to clean affected area and massage into skin.
For daily use on hands, feet and face.
For external use only.
Caution:
KEEP OUT OF REACH OF CHILDREN.
Disclaimer:
Statements relating to this product have not been evaluated by the Food and Drug Administration. This product is not intended to diagnose, treat, cure, or prevent any disease.