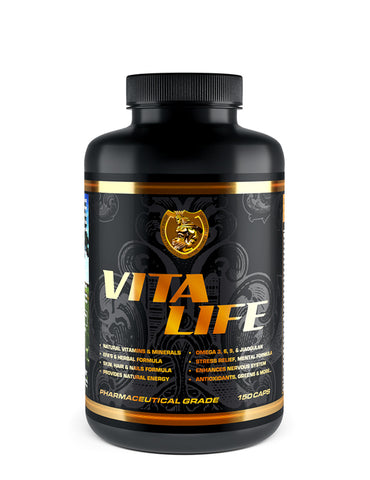 Royal Sports VITA LIFE 180 caps
VITA LIFE 180 CAPSULES VITA LIFE has been scientifically formulated with the highest-quality and purest Vitamins, Minerals, Natural Herbs, Vital Nutrients and Essential Fatty Acids. This unique blend supports and maintains strong and healthy general body functions, as well as helps revitalize your mental and physical well-being. Formulated with the Miracle Plant, Jiaogulan, and greens to help boost your immune system, enhance energy and strength levels.
Give your body and mind the Royal Treatment with VITA LIFE.
Complete Vitamin & Minerals Spectrum
Comprehensive Natural Formula
Promotes General Health
Enhances Cell Functions
Boosts Immune System
Helps Lower Bad Cholesterol levels
Healthy Heart, Sharp Vision
Helps Regulate Blood Pressure
Helps Reduce Stress
And much more
Disclaimer:
Statements relating to this product have not been evaluated by the Food and Drug Administration. This product is not intended to diagnose, treat, cure, or prevent any disease.