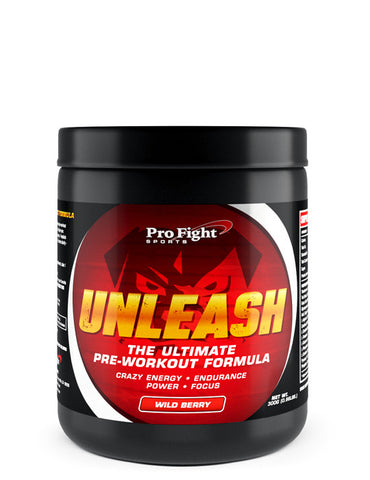 PRO FIGHT has unleashed the beast of all beasts in pre-workout formulas. UNLEASH is a comprehensive, complete and revolutionary pre workout formula loaded with a proprietary blend of ingredients that is unrivaled and stands alone in the category of the most powerful pre workout formulas ever created! It has EVERYTHING you need to unleash your potential and contains NOTHING you don't need!
This powerful formula has been meticulously designed to help unleash: extreme energy and strength, flesh-bursting pump, blood-engorged vascularity, extreme focus and clarity, maximum endurance levels, lean muscle growth, fat loss and it acts as an appetite controller. UNLEASH is an ultra-concentrated beast that will instantly boost your workouts to extreme levels!
Serving Size: 1 Scoop (30 g)
Servings Per Container: 10
  Amount Per Serving % Daily Value*
  Calories 40 
  Total Fat  0  g  0%
       Saturated Fat 0  g  0%
  Total Carbohydrates  3  g  1%
       Sugars 2  g   **
  Protein (Amino Blend)  5  g  **
   Calcium 500  mg 50%
   Sodium 300  mg 12%
   Magnesium 200  mg 47%
   Potassium 150  mg 4%
   B-Complex    100%
   Vitamin C 60.mg  100 **
  Proprietary UNLEASH Extreme Energy Power Focus Pump Vascularity Endurance Drive Blend    **
 
Glucuronolactone, Choline Bitartrate, Quercetin, Theobromine, Inosine, Inositol, Paba, DMAE, Ginseng, Guarana, Green Tea Extract, Ginkgo Biloba, D-Ribose, Resveratrol, Grape Skin Extract, Grape Seed Extract, Rhodiola Rosea Extract, Schisandra Berry, Glycocyamine, Malic Acid, Caffeine, Citrus Aurantium, Alpha Lipoic Acid, Ginger Root, Acai 4:1 Extract, Papaya Extract, Theanine, Arginine, L-Arginine DL-Malate, Arginine AKG, Creatine Mono, Creatine HCl, Creatine DL-Malate, Creatine AKG, L-Citrulline, Creatinol-O-Phosphate, L-Citrulline Malate, L-Lysine, L-Valine, L-Leucine, L-Isoleucine, L-Theorine, L-Ornithine, L-Carnosine, Aspartic Acid, L-Norvaline, L-Glutamine, Glutamic Acid, L-Histidine, AKG, L-Cysteine, L-Phenylalanine, L-Tyrosine, N-Acetyl, L-Tyrosine, L-Carnitine, N-acetyl-beta-alanine, L-Alanine, Calcium Pyruvate, Sodium Pyruvate, Di-Calcium Phosphate, Dipotassium Phosphate, Disodium Phosphate, Magnesium Phosphate
*Percent Daily Values are based on a 2,000 calorie diet.
**Daily Value not established.
Other Ingredients:
Coffee Beans, Vanilla, Chocolate, Natural and Artificial Flavors.
If you are a regular consumer of pre workout supplements, Mix 1 scoop with 8 oz of water, milk or your favorite beverage, 30-45 minutes before your workout.
New Users: Mix 1/2 scoop with 8 oz of water, milk or your favorite beverage, 30-45 minutes before your workout.
For all day energy and focus: Mix 1 scoop with 8 oz of water, milk or your favorite beverage and drink sparingly throughout the day.
DO NOT EXCEED TWO (2) SCOOPS PER DAY. DO NOT CONSUME THIS PRODUCT IF YOU HAVE ANY MEDICAL CONDITION.
Disclaimer:
Statements relating to this product have not been evaluated by the Food and Drug Administration. This product is not intended to diagnose, treat, cure, or prevent any disease.