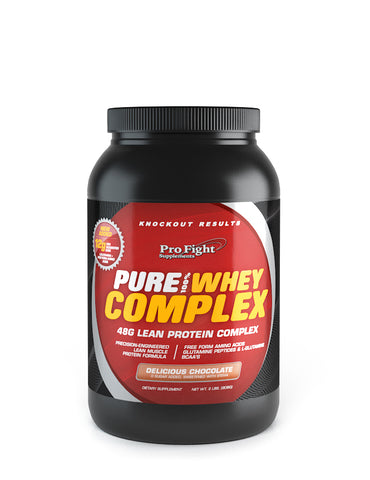 Pro Fight PURE 100% WHEY COMPLEX 2 Lbs
PRO FIGHT SUPPLEMENTS is proud to present our newest fighter, PURE 100% WHEY COMPLEX, a new and advanced protein blend. It is designed to help increase and maintain lean muscle mass, speed up muscle repair and recovery, support protein synthesis and help you feel stronger and healthier. Our scientifically formulated protein formula combines only the purest and highest quality ingredients. PURE 100% WHEY COMPLEX is formulated with Whey Protein Isolate, Whey Protein Concentrate, BCAAs, Glutamine and Glutamine Peptides. This formula delivers 48G of powerful micro-filtered pure Protein Complex to help you achieve KNOCKOUT RESULTS. PRODUCT HIGHLIGHTS: 48G of High-Quality Whey Protein Complex Glutamine Peptides & L-Glutamine Branched Chain Amino Acids (BCAA;s) Amino Peptide & Amino Acids Helps increase protein intake Supports muscle tissue and repair Speeds up post-workout recovery process No Added Sugar (Only 1G naturally occurring per scoop Does not contain Aspartame or Fillers Does not have a bad aftertaste 100% Bioavailable Mixes Instantly Best-Tasting Protein Easy to Digest.
Serving Size: 1 Scoop (30 g)
Servings Per Container: 30
Amount Per Serving % Daily Value*
Calories 113
Calories from Fat 9
Total Fat 1 g 2%
Saturated Fat 0.5 g 3%
Trans Fat 0 g **
Cholesterol 20 mg 7%
Sodium 50 mg 2%
Potassium 175 mg 5%
Total Carbohydrate 2 g 1%
Sugars 1 g **
Protein 24 g 48%
Vitamin A 127 IU 2%
Vitamin C 0 mg 0%
Calcium 110 mg 10%
Iron 0.4 mg 4%
Magnesium 18 mg 2%
*Percent Daily Values are based on a 2,000 calorie diet.
**Daily Value not established.
Ingredients:Whey Protein Isolate, Whey Protein Concentrate, Glutamine, Glutamine Peptides, Amino Peptides, BCAA's, Sucralose, Cocoa Powder, Natural & Artificial Flavors Contains Milk, Egg, Soy & Sulfites
Does Not Contain: Sugar, artificial colors, artificial flavors or preservatives
Mix one or two scoops of Pure 100% Whey Complex with 6-12 oz. of water, milk, juice, or your favorite food or beverage. Take 1-3 servings per day or as recommended by your licensed nutritionist, personal trainer or physicain.
Disclaimer:
Statements relating to this product have not been evaluated by the Food and Drug Administration. This product is not intended to diagnose, treat, cure, or prevent any disease.