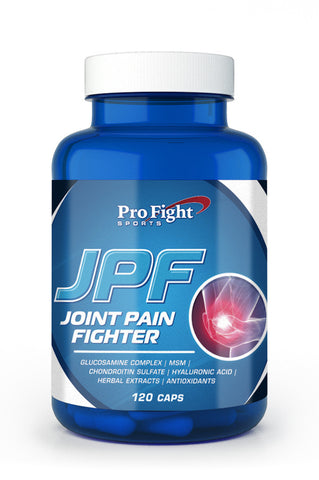 Pro Fight JPF-1, 120 Caps
FINALLY, professional athletes have revealed their secret to pain-free and healthy joints! JPF-1 (Joint Pain Fighter) is a revolutionary formula that provides the nutritional support necessary to heal, relieve pain and repair joints. Our potent and highly effective formula was scientifically developed for professional athletes and exercise-aficionados with damaged or injured joints by combining the natural healing benefits of Glucosamine Complex, Chondroitin & MSM.
Research has proven these ingredients to be the most effective nutrients to help repair, protect and replenish the major joint components; cartilage, ligaments, collagen, synovial membrane lining and fluid which are affected or damaged due to repetitive use during weight training and strenuous exercise.
JPF-1 is designed to relieve you of the debilitating joint and muscle pain so you can focus on developing your body to its full potential. Unlike most pain reliever formulas that use harsh chemicals and only suppress your symptoms; JPF-1 delivers fast pain relief naturally and safely by supporting the bodys innate ability to heal itself. It is the ultimate, natural pain prevention supplement that knocks out the pain and restores joints back to healthiness, irrespective of athletic strain, injury or chronic pain.
Benefits
Regeneration and protection of damaged cartilage, tissue density around the joints, is achieved through the synergistic combination of a highly absorbable pharmaceutical-grade Glucosamine Complex and Chondroitin Sulfate (CSA-4), which are the building blocks of the joint lining, ligaments and surrounding synovial (joint lubricant) fluid.
Strengthening of all connective tissues and increase in elasticity from joints to muscle and even bone structures through a therapeutic dosage of MSM, an organic form of sulfur, a mineral found in all cells and tissues.
Reduction of joint inflammation and pain due to the therapeutic activity of the most potent combination of natural anti-inflammatory herbal extracts, Bromelain and Boswellia, while long-lasting pain relief is supplied through the natural properties of White Willow, natures natural aspirin.
Neutralization of free radicals through antioxidants, organic substances (vitamins A, C and E). Antioxidants act as scavengers helping to prevent cell and tissue damage that could lead to disease. Excessive free radicals around the joints may cause additional damage and delay recovery of the tissue.
Other Ingredients: Gelatin, Magnesium, Stereate, Silicon Dioxide
Does Not Contain: Sugar, artificial colors, artificial flavors or preservatives
As a dietary supplement, take two capsules twice a day, preferably in the morning and evening with food or as directed by a health care professional.
NOTE: Glucosamine is short lived in the bloodstream and is not stored in the body; maximum peak levels are reached within a 2 to 4 hour period and are almost unnoticeable within 8 to 10 hours. Therefore, in order to sustain the desired effects and obtain optimum benefits; it is essential that both dosages are taken as suggested above.
Disclaimer:
Statements relating to this product have not been evaluated by the Food and Drug Administration. This product is not intended to diagnose, treat, cure, or prevent any disease.