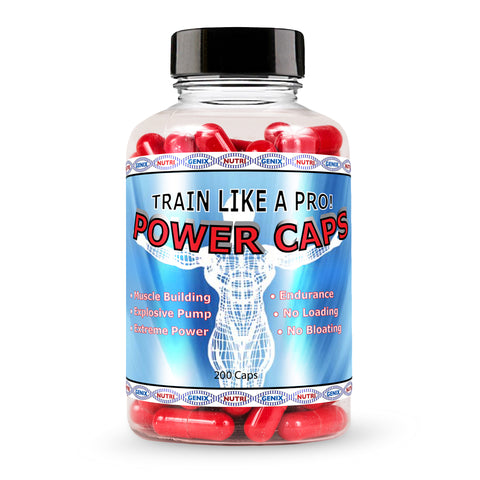 NutriGenix Power Caps 200caps
NTER THE HARD-CORE TRAINING ZONE OF THE PRO's WITH POWER CAPS.

Its superior formula of phosphor-buffered Creatine allows you to reach your training like a Pro.

POWER CAPS -Creatine utilises the most effective transport agents to deliver nutrients to your muscles.

You will experience superior power, massive muscle gains, long lasting endurance and explosive pump; just like the pros!

POWER CAPS will revolutionize your training regime.

Its effects are immediate; you will feel more powerful whilst experiencing its incredible muscle building benefits! Our formula only contains high-quality, 100% pure pharmaceutical ingredients

BENEFITS

Explosive muscle pump

Exponential power and weight lifting ability

Longer endurance

Delay muscle fatigue

Faster muscle recovery

Increase build and muscle tissue repair

Maximize overall exercise performance
Serving Size 4

Servings Per Container 50

 

Amount Per Serving

% Daily Value

 
Proprietary Blend       
3500mg
 
 

 

 

 

Phospho-buffered Creatine

 

Creatine Ethyl Ester Malate

*

L-Taurine

*

Creatine AKG

*

Citrulline Malate

*

B-Complex

Cellulose

*

 

* Daily Value not established
A dietary supplement, take one serving half an hour before exercise.
To maximize results drink 8-10 glasses of water a day.
Disclaimer:
Statements relating to this product have not been evaluated by the Food and Drug Administration. This product is not intended to diagnose, treat, cure, or prevent any disease.