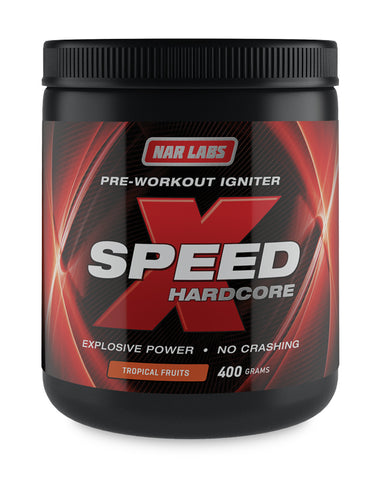 Nar Labs Xspeed Hardcore 400g
XSPEED Hardcore is a super concentrated pre-workout igniter formulated with precise doses of high quality ingredients designed to shock your workouts. This intense formula is built to give you extreme energy, greater muscular endurance, maximum strength, muscle growth, sharp focus and massive muscle pumps. XSPEED Hardcore is engineered to help you break natural barriers and exceed your natural abilities.

As a dietary supplement, take one scoop with 8oz. of cold water hour before you like to feel the speed or exercise.
Disclaimer:
Statements relating to this product have not been evaluated by the Food and Drug Administration. This product is not intended to diagnose, treat, cure, or prevent any disease.