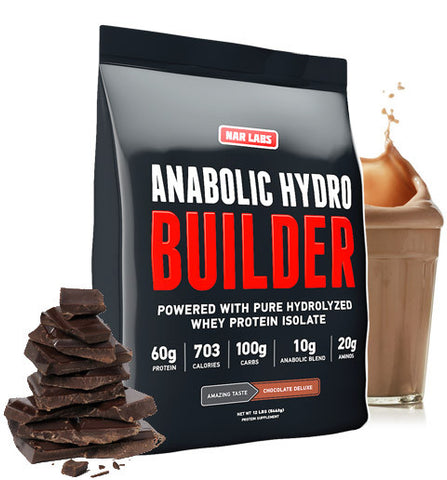 NAR Labs Anabolic Hydro Builder 12 lbs
Protein is the key ingredient in the quest to gain muscle mass, through extensive research; we have worked out the optimum protein per serving; combined proteins containing high biological values, and achieved amino acid profiles that are unsurpassed in the industry.
ANABOLIC HYDRO BUILDER is a powerful muscle gaining formula designed to help you increase muscular strength and endurance. Loaded with 703 nutrient-dense calories, derived from quality proteins and quickly digestible carbohydrates, as well as specialized fats. It is the ideal anabolic protein builder to help you add useful calories in proper proportions for rapid increase in muscular bodyweight.
INGREDIENTS:  Elite Protein Blend (Hydrolyzed Whey Protein Isolate, Whey Protein Concentrate, Calcium Caseinate, Egg Albumen), Maltodextrin, Extreme Anabolic Matrix (Creatine Monohydrate, Di Creatine Malate, Tri Creatine Malate, Taurine, Tribulus Terrestris, Zinc Aspartate, Magnesium Aspartate, B-Complex), Amino Stack: (L-Glutamine, L-Glutamine Peptide, Branched Chain Amino Acids, L-Alanine, L-Threonine, Glycine), Pro-Digestive Blend: (Bromelain, Papaya Fruit Powder), Healthy Lean Fats Blend (Borage Seed Oil Powder, Flaxseed Oil Powder), Vitamin & Mineral Blend (Calcium Lactate, Potassium Citrate, Sodium Citrate, Magnesium Oxide, Ascorbic Acid, DL-Alpha Tocopheryl Acetate, Vitamin A Palmitate, Calcium Sulfate, Zinc Oxide, Dl-Alpha Tocopherols, Manganese Sulfate, Beta Carotene, Tri-Calcium Phosphate, Phytonadione, Cholecalciferol), Sucralose, Stevia, Natural and Artificial Flavors.
DOES NOT CONTAIN: NO Fillers, NO Artificial Colors, NO Aspartame, NO Fructose.
As a dietary supplement mix 1-2 scoops in 12-16 oz. of cold water, milk or juice. For best results take 3 times daily; preferably before, after exercise and between meals, or as needed to satisfy your protein or mass gaining requirements.
Disclaimer:
Statements relating to this product have not been evaluated by the Food and Drug Administration. This product is not intended to diagnose, treat, cure, or prevent any disease.