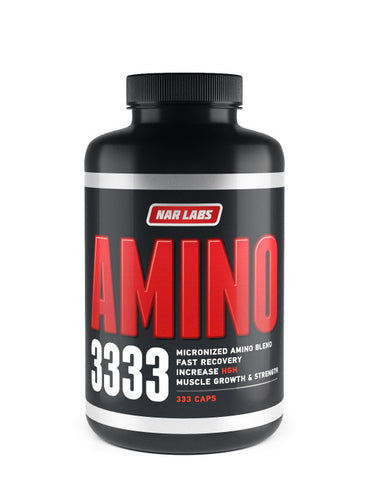 Nar Labs Amino 3333 Capsules
Amino acids are the building blocks of protein and play a huge role in physique development; increasing protein synthesis and increasing circulation of hormone levels, to name just two of the many benefits.
The majority of recent research on increasing protein synthesis and reducing muscle breakdown, has focused on the role of Essential Amino Acids. There are 9 Essential Amino Acids in total, and AMINO 3333 contains them all!
// Our supreme blend contains 3333mg of 100% PURE AMINO ACIDS - NO ADDED SOY - NO ADDED WHEY PROTEIN, JUST PURE AMINO ACIDS; WE SHOULD HAVE NAMED IT REAL AMINO 3333!

//FULL SPECTRUM MICRONIZED AMINO BLEND
//MUSCLE, STAMINA, FAST RECOVERY
//PROMOTES LEAN MUSCLE GROWTH
//HELPS INCREASE HUMAN GROWTH HORMONE LEVELS
//FAST ABSORBING AND EASY TO SWALLOW
Serving Size: 3 Capsules    *   Servings per container:  111
Calories  -  13  *  Calories from FAt  -  0
Total Carbs  -  0
Protein  - 3.3 grams  *  7%
Calcium Carbonate  -  100mg  *  10%
Percent Daily Values are based on a 2,000 calorie diet.
// INGREDIENTS:  Free Form Amino Acids, Micronized Branched Chain Amino Acids, L-Glutamine, Glutamine Peptides, L-Alanine, Threonine, Glycine, Taurine.
// OTHER INGREDIENTS:  Magnesium Stearate, Microcrystalline Cellulose, Gelatin.
As a dietary supplement, take three to five capsules three times daily, Preferably with each meal and directly after each exercise sessionor as directed by a healthcare professional.
STACK WTIH:
100% LEAN WHEY COMPLEX
GLUTAMINE MATRIX
Disclaimer:
Statements relating to this product have not been evaluated by the Food and Drug Administration. This product is not intended to diagnose, treat, cure, or prevent any disease.