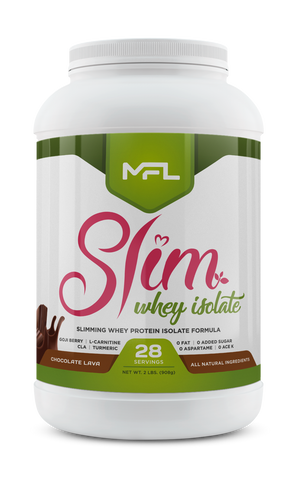 SLIM WHEY ISOLATE is an advanced slimming protein formula designed for those who strive for muscle tone and definition. Slim Whey helps you reach a new phase in your high performance and weight management journey. Featuring 100% hydrolyzed whey protein isolate and effective doses of several highly regarded ingredients to help you promote fat loss, body tone and speed up muscle recovery. 
28g of 100% Hydrolyzed Whey Protein Isolate
2,000mg of Goji Berry, Turmeric, Apple Cider Vinegar, Cinnamon and more
Enhanced with Amino Acids, Bcaa's & L-Glutamine
No Added Sugar, No Aspartame No Ace K, No Fillers
INGREDIENTS: 100% Hydrolyzed Whey Protein Isolates, L-Glutamine, BCAAs, Goji Berry Powder, CLA, L-Carnitine, Turmeric Root Extract, Apple Cider Vinegar Powder, Cinnamon Powder, L-Glycine, L-Alanine, L-Threonine, Stevia Extract, Natural Flavors.
For a delicious shake or smoothie, mix 1-2 scoops with 8 oz. of cold water, juice or milk. Enjoy pre-workouts, within 30 mins post-workouts or anytime you desire a high-quality, high-protein drink.  Shake container vigorously, prior to each use.
You can add more or less liquid to meet your desired taste and caloric needs. You can also add to foods such as yogurt, cereal and oatmeal or use it in baking muffins, pancakes, etc., to get more protein into your daily diet.
Enjoy two servings daily.
Notice: Do not use as a sole source of nutrition for weight loss or maintenance. This product is sold by weight, some settling may occur. Store in a cool and dry place. Keep out of reach of children.
Disclaimer:
Statements relating to this product have not been evaluated by the Food and Drug Administration. This product is not intended to diagnose, treat, cure, or prevent any disease.