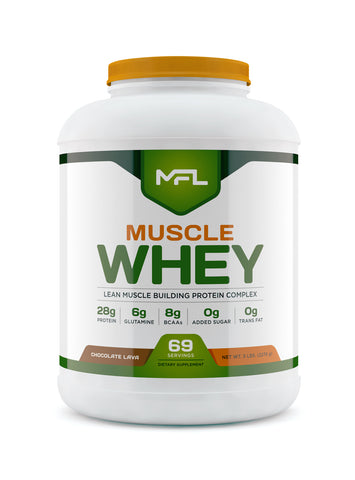 MUSCLE WHEY PROTEIN is precisely formulated to help you grow, maintain and repair lean muscles. This is achieved through rapid absorption, which is accomplished by using the best possible amino acid profile and high-quality whey protein. We use premium quality un-denatured whey protein for its digestive properties and superior nutrient utilization. This delicious tasting formula delivers the core nutrients active bodies need to increase fitness levels and accelerate lean muscle development.

• Proven protein blend charges muscles fast and delivers more L-Leucine for improved strength
• Fast-absorbing blend maximizes recovery and performance far superior to regular whey
• 28 grams of superior lean muscle building protein complex
• Optimal BCAA levels
• Optimized amino acid profile
• Supports lean muscle tissue, repair and protein intake
• Optimizes performance and post-workout recovery
• Delicious tasting and super nutritious
• No Dextrose or Maltodextrin
• Mixes instantly
• Digests Fast
• 0 added sugar, 0 aspartame, 0 fillers, 0 artificial colors

Serving Size: 33g (1 rounded scoop) Servings per Container: 28
Ingredients Amount Per Serving %DV
Calories 121
Calories from Fat 9
Total Fat 1g 2%
Saturated Fat 0,5g 3%
Trans Fat 0 *
Cholesterol 20mg 7%
Sodium 60mg 3%
Total Carbohydrates 3g 1%
Sugars 1g *
Protein 28g 56%
Vitamin A 0% | Vitamin C 100% | Calcium 10% | Iron 2% 
Ultra Pure Whey Protein Blend (Whey Protein Isolate, Whey Protein Concentrate), Amino Acids Blend (Free Form Amino Acids, Amino Peptides, Branched Chain Amino Acids L-Glutamine, Glutamine Peptides), Stevia, Natural Flavors.
Other Ingredients: ABSOLUTELY NONE!
Allergen Information: Manufactured in a plant that processes milk, soy, and wheat. This product contains ingredients derived from milk.
For a delicious shake or smoothie, mix 1 to 2 scoops of Muscle Whey with 8-12 oz. of water, milk, or juice add some ice, shake until well dissolved and drink immediately. You can add more or less liquid to meet your desired taste and caloric needs. You can also add to foods such as yogurt, cereal and oatmeal or use it in baking muffins, pancakes, etc., to get more protein into your daily diet.

Enjoy 1-2 servings daily, ideally 1 shake after training.

Notice: Do not use as a sole source of nutrition for weight loss or maintenance. This product is sold by weight, some settling may occur. Store in a cool and dry place. Keep out of reach of children.
Disclaimer:
Statements relating to this product have not been evaluated by the Food and Drug Administration. This product is not intended to diagnose, treat, cure, or prevent any disease.