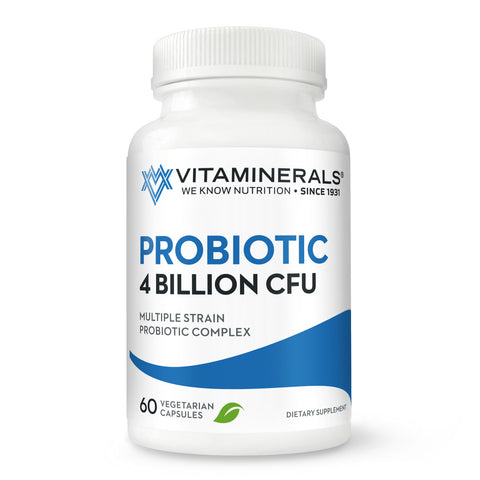 Vitaminerals Probiotic, 60 Veggie Caps
VM PROBIOTIC has been designed to promote optimal digestion and immune support. Antibiotics, illness, environmental, physical stress, injury, food allergies, plus many other conditions have a negative effect on our intestinal microflora, or good bacteria. Microflora levels affect nutrient absorption, gastrointestinal distress, bowel function, and the ability to resist toxic compounds and bacteria such as Candida and E. coli. VM PROBIOTIC provides three primary, highly viable strains of beneficial microflora, to promote optimal digestive health, immune function, mood balance, and pathogen fighting support.
Ingredient
Amount
% DV

Probiotic Complex




(L. gasseri, B. longum, B. bifidum)

4 billion CFU**

*
Other Ingredients:  Desiccated potato starch, magnesium stearate. Capsule shell: Vegetarian hypromellose.
As a dietary supplement, take one to two capsules daily with meals or as recommended by your health professional.
Caution:
Consult your physician prior to using this product it you are pregnant, nursing, taking medication, under 18 years of age or have a medical condition. 
Disclaimer:
Statements relating to this product have not been evaluated by the Food and Drug Administration. This product is not intended to diagnose, treat, cure, or prevent any disease.