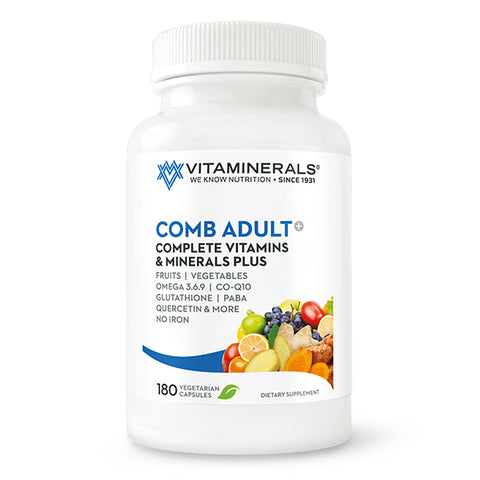 Vitaminerals Comb Adult MultiVitamin + Greens Blend, 180 Veggie caps
Multiple Vitamin
Comprehensive Vitamin & Mineral Formula
CombAdult PLUS helps provide essential macro and micro nutrients plus important functional nutraceuticals to insure a solid nutritional foundation. Formulated to allow flexible dosing without concern for oversupplementation or megadosing.
Contains our exclusive VM2 Food Base
Veggies & Fruits Blend
As a dietary supplement, take two to four capsules daily with meals or as recommended by your health professional. For optimal results, one in the morning, and one in the evening.
Caution:
Consult your physician prior to using this product it you are pregnant, nursing, taking medication, under 18 years of age or have a medical condition. 
Disclaimer:
Statements relating to this product have not been evaluated by the Food and Drug Administration. This product is not intended to diagnose, treat, cure, or prevent any disease.