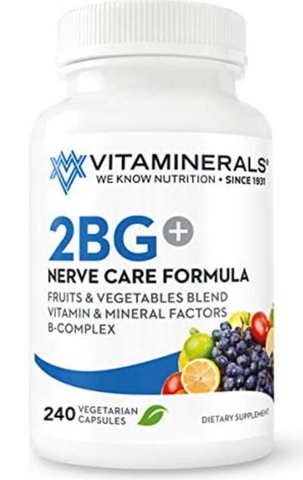 Vitaminerals 2BG+ NERVE CARE BLEND, 240 Veggie caps
Immune Support
High Potency B Complex and Multi-Vitamin
2BG+ is a comprehensive multiple vitamin with essential nutrients to help restore balance resulting from functional damage to the nervous system.
Contains our exclusive VM2 Food Base wiith vitamin and mineral factors
Neuropathic care formula
As a dietary supplement, take four capsules daily with a meal or as directed by your licensed medical professional. 
Caution:
Consult your physician prior to using this product it you are pregnant, nursing, taking medication, under 18 years of age or have a medical condition. 
Disclaimer:
Statements relating to this product have not been evaluated by the Food and Drug Administration. This product is not intended to diagnose, treat, cure, or prevent any disease.