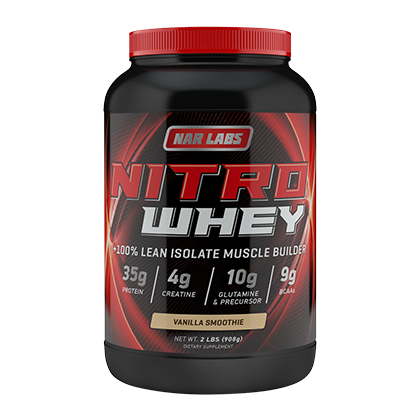 Nar Labs Nitro Whey 2.2lbs
NITRO WHEY has been designed to provide the ideal environment to help support lean muscle growth, muscle recovery and strength gains. This is achieved through a balanced and complete blen of high quality whey protein isolate, whey protein concentrate, giutamine peptides, creatine monohydrate, branched chain amino acids, and I-glutamine. Additionally, to help your body recover and build muscle faster we've include a priceise dose of key amino acids (Alanin, and Taurine)
INGREDIENTS:
Whey Protein Isolate, Whey Protein Concentrate, L-Glutamine, Creatine Monohydrate, Branched Chain Amino Acids (leucine, isoleucine, valine), L-Alaine, Taurine, Amylase, Papain, Sucralose, Natural and Artificial Flavors
For a delicious shake, mix 1 – 2 scoops of NITRO WHEY in 8-16 oz. of milk, water or juice. For optimal results, use between meals and post-workout.
Disclaimer:
Statements relating to this product have not been evaluated by the Food and Drug Administration. This product is not intended to diagnose, treat, cure, or prevent any disease.