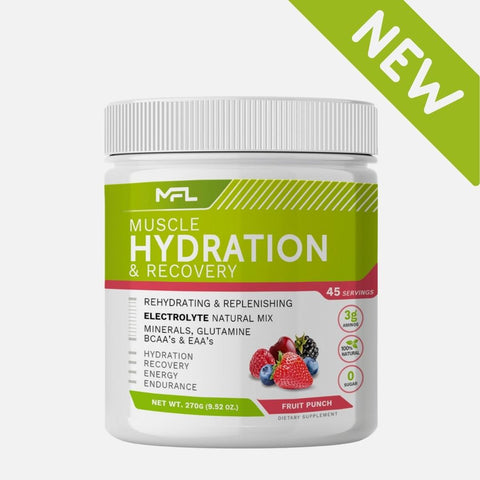 NATURAL FRUIT PUNCH FLAVOR
Electrolytes are small electronically charged particles that we loose when we sweat.  There are four main electrolytes that play a crucial role in hydration as well as exercise performance which are, Sodium, Potassium, Magnesium & Calcium.

Which is why we have created MUSCLE HYDRATION & RECOVERY. 

Not only do we have the hydration portion covered with a powerful blend of electrolytes and minerals but we've also added a powerful Recovery Blend which includes the coveted Branched Chain Amino Acids.
MUSCLE HYDRATION & RECOVERY is the perfect supplement to help rehydrate and recover after a hard workout.  

Muscle Hydration & Recovery's hydrating & recovery powers unbelievable flavor through an all-natural formula that hydrates fast with no sugary stickiness. You've never tasted anything this crisp and clean - a refreshing drink that rehydrates, energizes and invigorates.
HYDRATE WITHOUT THE GUILT
As a dietary supplement, mix 1 scoop in at least 8 oz. of cold water (adjust water level to your taste preference) and enjoy 1-2 times daily.  
NOTICE: Consult your physician before using this or any other supplement, if you are pregnant, nursing, taking medications, under 18 years of age or have a medical condition. Keep out of reach of children and tightly closed.
Disclaimer:
Statements relating to this product have not been evaluated by the Food and Drug Administration. This product is not intended to diagnose, treat, cure, or prevent any disease.