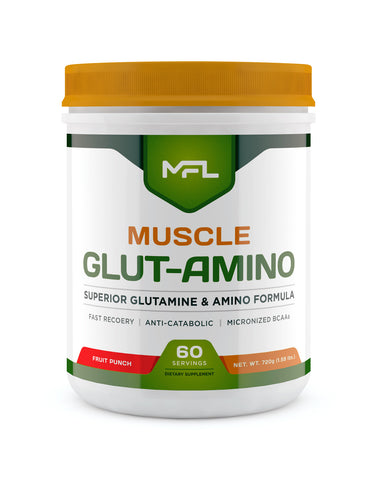 L-Glutamine is your body's most abundant amino acid, and is considered "conditionally essential" because it's naturally manufactured by your body. During strenuous exercise, your glutamine stores can become severely depleted because glutamine is being used at a rate that outpaces your body's ability to synthesize it. Unless you supplement your glutamine levels can lead to serious breakdown of the lean muscle tissue you've worked so hard to develop.
The solution, supplement your hard working muscles with MUSCLE GLUT-AMINO; an exclusive array of four pure, yet diverse glutamine complexes that deliver the precise load of glutamine your body needs to fuel your muscles and effectively support your recovery after exercise.
As a dietary supplement, mix 1 scoop in 6-8 oz. of cold liquids or add to your favorite protein shake 1-2 times daily. For post-workout recovery, take one scoop not more than 30 minutes post-workout.
NOTICE: Consult your physician before using this or any other supplement, if you are pregnant, nursing, taking medications, under 18 years of age or have a medical condition. Keep out of reach of children and tightly closed.
Disclaimer:
Statements relating to this product have not been evaluated by the Food and Drug Administration. This product is not intended to diagnose, treat, cure, or prevent any disease.