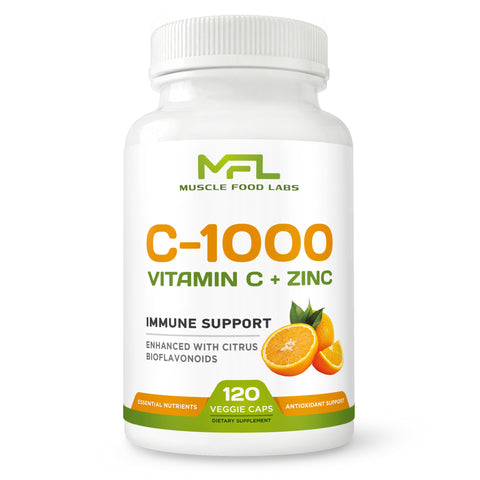 Muscle Food Labs C-1000, Vitamin C + Zinc
Vitamin C and Zinc are both powerful antioxidants; they play a vital role in assisting the immune system combat viral and bacterial infections. Bioflavonoids may help enhance the beneficial effects of Vitamin C. Vitamin C is an essential vitamin which your body cannot produce and is required by the body for an array of functions. Zinc is a trace mineral required by more than 100 enzymes to perform their vital chemical reactions.
ANTIOXIDANT PROTECTION l HEALTHY IMMUNE FUNCTION

VITAMIN C 1000 MG l ZINC 25MG + CITRUS BIFLAVONOIDS 25MG

EASY TO SWALLOW & DIGEST VEGETARIAN FRIENDLY CAPSULES

SIMPLE, ONCE-DAILY FORMULA l 120 SERVINGS l GLUTEN FREE

NON-GMO l MADE IN USA IN A FDA INSPECTED FACILITY
• 120 Servings
 Other Ingredients:  Magnesium Stearate, Vegetable Cellulose Capsule
Take 1 or 2 capsules before bedtime with 12 fl. oz. of water. For maximum results, drink at least 8 full glasses of water a day.
Disclaimer:
Statements relating to this product have not been evaluated by the Food and Drug Administration. This product is not intended to diagnose, treat, cure, or prevent any disease.