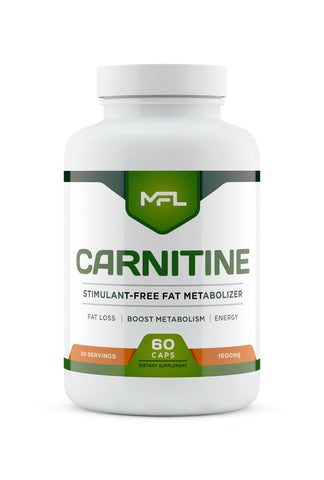 L-Carnitine is a naturally occurring amino acid that may assist in cardiovascular function, energy metabolism and the body's ability to effectively burn fat. 
Helps convert fat into energy
Transports fatty acids
Boosts cellular energy
Helps athletic performance and endurance
Promotes fat loss
 Other Ingredients:  Microcrystalline Cellulose (capsule shell), Calcium.
As a dietary supplement, take 2 capsules twice daily with 12 fl. oz. of water. For optimal results, take 2 capsules on an empty stomach 30-60 mins pre-workout.
Notice: Consult your physician prior to use if you are pregnant, lactating, or taking any medication. This product is only intended to be consumed by healthy adults 18 years of age or older. Do not use when abdominal pain, nausea, diarrhea, or vomiting are present. KEEP OUT OF REACH OF CHILDREN and tightly closed.
Disclaimer:
Statements relating to this product have not been evaluated by the Food and Drug Administration. This product is not intended to diagnose, treat, cure, or prevent any disease.