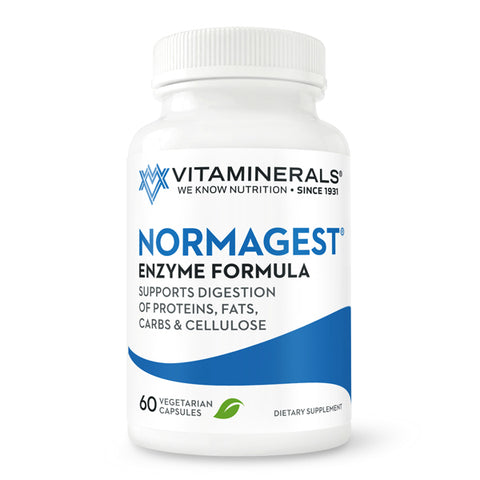 Vitaminerals Normagest, 60 Veggie caps
VM 61 contains a comprehensive range of standardized enzymes to provide amylolytic (carbohydrate), cellulytic (cellulose), proteolytic (protein) and lipolytic (fat) activity within the digestive tract. The sources of this activity are pancreatin, ox bile salts and primary cultured enzymes. VM 61 is beneficial for those suffering from gastric upset or impaired digestion, due to decreased enzymatic activity in the stomach or intestines. Each tablet is enteric coated to protect the enzymes from the stomach's high pH levels, so to allow for full bioavailability in the digestive tract.
Supplement Facts
| Ingredient | Amount | % DV |
| --- | --- | --- |
| Normagest® (amylase, papain, bromelain, cellulase, protease, lipase, sucrase, lactase, maltase) | 200 mg | * |
| Standardized Pancreatin NF (Pancreatin 4x) | 360 mg | * |
| Digestive Enhance (ginger ext, peppermint (leaf), papaya, Bacillus coagulans (probiotic), Pepsin NF) | 90 mg | * |
Other Ingredients:
Magnesium stearate, capsule shell:  vegetable cellulose.
As a dietary supplement, take one or two capsules ideally 20 minutes before a meal or as directed by your licensed medical professional. 
Caution:
Consult your physician prior to using this product it you are pregnant, nursing, taking medication, under 18 years of age or have a medical condition. 
Disclaimer:
Statements relating to this product have not been evaluated by the Food and Drug Administration. This product is not intended to diagnose, treat, cure, or prevent any disease.