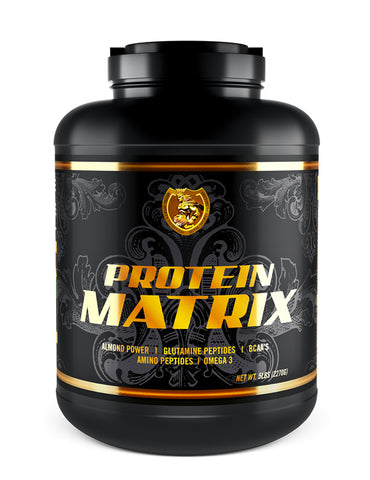 Royal Sports Protein Matrix 5 Lbs.
ROYAL SPORTS NUTRITION is proud to introduce PROTEIN MATRIX, a new, advanced, and unique protein formula designed to develop a lean and solid body, offer faster recovery, and help you feel healthier. Our scientifically formulated protein blend combines the purest and highest-quality Whey Protein Isolate, Whey Protein Concentrate, Omega-rich and highly nutritious Almond Powder, BCAA, Glutamine, Glutamine Peptide, and Amino Peptides. Protein Matrix contains almonds, the king of nuts, to provide you with ultimate results! Almonds help stabilize blood sugar levels, lower cholesterol, prevent free radicalproducing insulin spikes, offer an abundance of natural protein, fiber, calcium, magnesium, trace minerals, potassium, and essential antioxidantsall providing your body with the Royal treatment through and through!.
Loading Protein Matrix with supreme Almond Protein, Omega-3-rich fatty acid, in addition to the highest-quality Whey Protein Isolate, Whey Protein Concentrate, and Amino Acids yields the following comparison:
This delicious formula mixes instantly. It is easy to digest and contains only the highest-quality and purestProtein.
Benefits:
Omega 3 promotes muscle growth and fat reduction, which leads to a lean and solid body
Amino Acids are responsible for building lean muscle tissues
Glutamine Peptide and L-Glutamine help you recover more quickly
Wholesome body fuel (calories not derived from added sugar)
Rich in monounsaturated fat, one of the two "good" fats responsible for lowering LDL cholesterol
Enhances Overall Health
Loaded with Almond power, the king of nuts
Lactose & Aspartame Free
Mixes Instantly
Easy to Digest
Delicious Taste
Ingredients:  Whey Protein Isolate, Whey Protein Concentrate, Almond Powder, Glutamine, Glutamine Peptides, Amino Peptides, BCAAs, Sucralose, Natural & Artificial Flavors, Cocoa Powder.
Does not contain:  Artificial colors, preservatives, fillers, aspartame or fructose.
Mix 1 to 2 MATRIX scoops with 8 to 12oz of water or your choice of beverage.  You can also add Protein Matrix to your favorite food such as cereal, oatmeal, yogurt of baking goods.
Disclaimer:
Statements relating to this product have not been evaluated by the Food and Drug Administration. This product is not intended to diagnose, treat, cure, or prevent any disease.